Blake Dover
As Vanderbilt takes the floor against Northwestern this Thursday, there is one key player-on-player matchup to look out for.
That matchup is the battle of the trees, a.k.a. Luke Kornet vs. Dererk Pardon at the center position. These two players have very different styles, which is something Vanderbilt is used to since most opposing centers don't have the versatile skill set that the 7'1" Kornet boasts.
Pardon, a Cleveland, Ohio, native, comes in averaging 8.5 points, 8.0 rebounds and 1.9 blocks per game. He has a tenacious, high-energy playing style that sometimes looks awkward. He is only listed at 6'8", so he relies on his natural strength (he's listed at 235 pounds) and tough mentality to battle with taller opponents.  
Pardon moves well and gets off short-range shots that most 6'8" centers would not be able to. According to Synergy Sports Technology, he shoots an elite 73.2 percent on cuts. In the video below, he beats Big Ten Player of the Year Caleb Swanigan to the basket and finishes over him.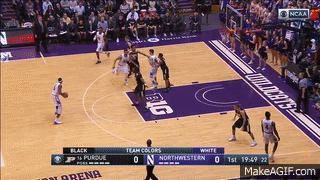 His scoring is strictly limited to inside the arc — in his two-year career he has yet to attempt a single three-point shot. His shining moment of the season came in the Wildcats' late-season game against Michigan, when he snagged a full-court inbound pass and made the game-winning layup that essentially clinched Northwestern's first-ever NCAA tournament bid.  
Kornet, Vanderbilt's veteran leader, is a player well-known to Commodore fans. He enters the tournament averaging 13.2 points, 6.2 rebounds and 2.0 blocks per game, and he holds the NCAA record for career three-pointers by a 7-footer, as well as the school record for career blocks.
Kornet has been the team's most important player this year, providing a strong rim protecting presence on defense, as well as the ability to spread the floor on offense with his unique shooting ability. Kornet, like Pardon, also boasts a game-winner this year — he hit a three with 2.7 seconds left to beat Chattanooga back in December. 
It will be interesting to see how Pardon handles being away from the paint when Kornet stretches out to the three-point line. It is not his natural habitat, and this could be a potential advantage for the Commodores. This has caused trouble for many opposing big men so far this season. In this footage, Pardon provides a fairly poor contest against Swanigan, a 43 percent three-point shooter.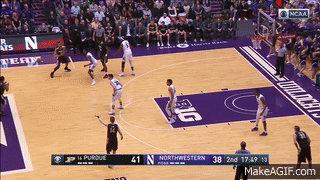 On the other hand, Pardon plays a more tenacious game than the gentler Kornet, and this could provide Northwestern an edge in rebounding. Already a player with a high motor, Pardon's energy will be through the roof at tip-off given the magnitude of the game. This could be either good or bad overall, but, regardless, it will help him win the 50-50 balls and grab extra rebounds. His motor, length and strength make him a great offensive rebounder, and he beats Swanigan to a board in the video below.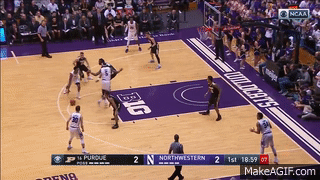 While Kornet is great at controlling his body and not fouling opponents when they attack him in the lane, fouling Pardon would not be the worst consequence given his poor free-throw shooting ability. Only averaging 51.7 percent from the line this year, Pardon can be a liability from the charity strike. When backup big man Djery Baptiste comes in for Kornet, Commodore fans can be comforted knowing that the less refined Baptiste won't cause much damage if he fouls Pardon.
Overall, the experienced Kornet should have the upper hand in this matchup. This could be his last game ever in college, so expect him to have nothing left in the tank when the clock hits zero. His junior season ended on a bitter note with a blowout loss in the First Four against Wichita State, and he will likely want to make up for that this Thursday.